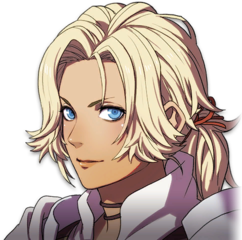 CatherineHP:
50%
Str:
50%
Lck:
30%
Mag:
25%
Def:
30%
Dex:
40%
Res:
20%
Spd:
55%
Cha:
25%
Strengths:

Sword,

Brawling
Weaknesses:

Reason
Personal Skill:

Fighting Spirit
: Unit takes 5 less damage when no battalion is assigned or when battalion endurance is 0.
Black/Dark Magic Learn List:
Fire: D
Bolganone: C
Ragnarok: A
White Magic Learn List:
Heal: D
Nosferatu: D+
Recover: C
Unique Learned Abilities/Arts:
Sword:

C+: Bane of Monsters: +6 Mt, +10 Crit, 1 range, costs 4 durability. Effective against Monster foes.
A: Finesse Blade: +2 Mt, 1 range, costs 4 durability. Avoid +10. Might increases based on user's Dexterity.

Brawling:

C+: Nimble Combo: +4 Mt, 1 range, costs 3 durability. Avoid +20. Triggers 2 consecutive hits.
A: Bombard: +3 Mt, +10 Crit, 1 range, costs 3 durability. Triggers 2 consecutive hits.

Authority:

C: Battalion Vantage: When foe initiates combat, unit still attacks first if battalion endurance is ≤ 1/3.
Catherine is Felix with a very slightly weaker Str growth, a weaker personal skill, a weaker Crest, and no Authority weakness. Oh, and only one Mt-boosting support instead of two. While those might sound like a lot of dings against her, remember, I said "no Authority weakness." She gains Authority ranks a
lot
quicker than Felix does, which means she can use better battalions a lot sooner than him. Given that battalions like the Goneril Valkyries require Authority B and provide +8 Phys Atk, that's usually more than enough to make up for what she lacks compared to him.
Oh yeah, she comes with the Thunderbrand, an incredibly powerful sword.

Thunderbrand
: 1 range. 13 Mt, 70 Hit, 10 Crit, 7 Wt, 30 durability. Enables Foudroyant Strike for holders of the Crest of Charon. Attacks twice consecutively when initiating combat. Requires Umbral Steel x3 and 2500 gold to repair.
And, for a reminder, here's what Foudroyant Strike does.

Foudroyant Strike
: +6 Mt, +30 Hit, +30 Crit, 1 range, costs 3 durability. Effective against Armored and Dragon foes.
+6 Mt and +
30
Crit is deadly, and she's the only one who can, realistically, use it. I say realistically because, technically, Lysithea can use it too (minor Crest of Charon, remember), but...yeah.
This is a minor benefit, but she's also considerably easier to recruit than Felix...when playing as Golden Deer. As the Black Eagles, you don't get her until
Chapter 11
, the halfway point of the game, negating that advantage. And, obviously, you start with Felix when playing as the Blue Lions, so that's irrelevant there.
Other than that...she's really just a unit built for the same purpose as Felix: a fast, deadly, sword-using infantry unit. Might not be the most
optimal
choice, but I'd be hard-pressed to say she's anything less than good.
Table of Contents